Thanks to his previous experience working in fields, Luigi Saleppichi (Pontedera, Italy) was able to give help in caring for private gardens in the Island.
His EVS project from October 2017 to September 2018 has concentrated mostly on sustainable gardening and on the subject of caring for autochthonous plants of the island which is key to the work of "Es Viver", the nursery garden of GOB Menorca. This is a project which aims to increase awareness in the local population by promoting autochthonous plants for their gardens rather than invasive exotics.
Luigi also helped in the creation of green filter plants and the management of the aquatic plants used for purifying waste water especially from houses isolated from mains drainage. The use of green filters is also promoted because of the island's problem of nitrate contamination in its aquifers.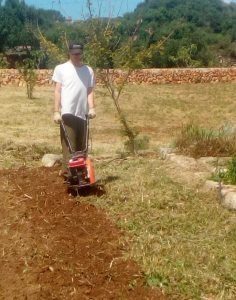 Luigi's strong point was his knowledge in the use and care of garden tools especially hedge trimmers.
In addition, once a week as part of the project, he helped with the tasks of cleaning the cages of raptors and in the preparation of food for all the animals at the Recuperation Centre for Wild Animals in Ciutadella.