Originally from Sillé le Guillaume (France), Romain Francin arrived in Menorca in February 2016 when he started his 8 months long EVS with GOB Menorca. Led by his strong passion for ornithology and animal protection, he joined the EVS project "Environmental Volunteer on the Island of Minorca" with enthusiasm and excitement (2014-3-ES02-KA105-005082).
During his EVS, Romain worked on a daily basis with different animal species at the Wild Animal Rescue Centre in Ciutadella (Menorca), where he had the opportunity to develop new skills and to deepen his knowledge on animal care.
He co-ordinated a large programme of work involving wild animals such as birds, hedgehogs, snakes, terrapins and tortoises. He was was responsible for co-ordinating a group of local volunteers and gave his help for the management of the animals in care including feeding, cleaning, nursing as well as installation maintenance.
He actively participated in the local Rescue Centre volunteers formation activities to learn to identify animal species of Menorca and to appreciate their natural environment.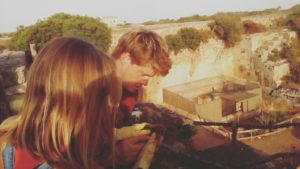 He assisted in the local Rescue Centre for the training of volunteers to learn how to identify Menorcan animal species and understand their natural environment. He also organized public visits to the Centre where visitors were able to appreciate close to some of the local wild species and to know what problems affect them.
Moreover, during the breeding season, he took an active role in the campaign promoted by GOB for the adoption of orphaned chicks. Romain also assisted in the Garden Centre specialising in indigenous plants "Es Viver" where he had the opportunity to find out about new sustainable gardening techniques, while encouraging the use of indigenous plants.