Tuuliki Koppel (Hiumaa, Estonia) was the first EVS volunteer for GOB Menorca and came from February to November 2015 (10 months). She took part in the "Environmental Volunteer on the Island of Menorca" EVS project (2014-3-ES02-KA105-005082).
During her EVS period, Tuuliki participated with energy and enthusiasm in several activities carried out by GOB. She was actively involved with the Environmental Education Service, taking part in school activities such as excursions, storytelling, workshops and environmental awareness campaigns. Tuuliki contributed to enrich the education materials designing and writing a wonderful children's book that aimed to connect young audiences with environmental issues.
Once a week she assisted at the Wild Animal Rescue Centre, offering technical help for the management of the animals in its care. Moreover, she was responsible for co-ordinating the tasks of the volunteers in the centre, organizing activities with the visitors' families during the summer and helping with the maintenance of the installations.
Besides the Rescue Centre and the Environmental Education Service, Tuuliki also helped in the Autochthonous Nursery Garden. Together with the other volunteers, she was involved in different tasks such as installation maintenance, soil recycling processes, transplanting techniques and the care of autochthonous and organic certified plants.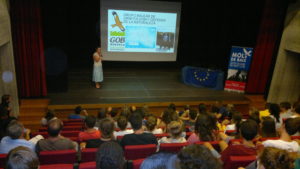 At the end of the EVS period, Tuuliki shared her experiences by giving a presentation at Sant Lluís town in front of an audience of 400 young students. A great and original way to let people know about this wonderful opportunity called EVS!