On Sunday 13 March coinciding with the Day of Indigenous Species, some twenty volunteers helped remove exotic succulents at Es Capell de Ferro farm. These plants were grown for many years near houses for decorative purposes and, with time, they have spread invading other species and the vegetation of the area.

The tramontana wind, persisting all the morning, did not make the volunteers lose heart and they removed more than 10 cubic metres of succulent plants. They filled a skip which was then able to be taken away.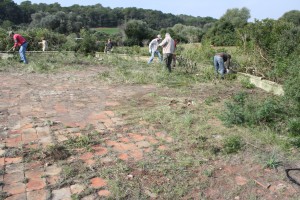 In addition, another part of the volunteer group, worked on the cleaning of the surroundings of a threshing floor, which had been covered with vegetation. It was a great surprise to discover, when the vegetation was removed, that it had conserved a large part of the sandstone which makes the structure. Maria Tuduri, the farmer, had been wanting to find time to recuperate this ethnological area which was made possible this Sunday with the help of the volunteers.
This volunteer day was recognised by the project "Bringing together Networks for Land Stewardship" developed by the Catalonia Stewardship Network and aided by the Social Work of La Caixa, and on Sunday there were more than 30 activities throughout Spain in areas holding stewardship agreements.
Many thanks to all participants!