From this Friday 1 July until the end of September, the Recuperation Centre for Wild Animals, will be open from Mondays to Saturdays from 6 pm until sundown.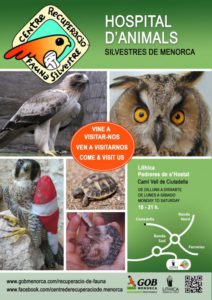 A visit to a hospital for wild animals is an experience unique to Minorca, enabling you to have contact with Minorcan animals and their problems. In addition, you will be helping to keep the centre viable and maintain its facilities which are needed for the care of hundreds of wild animals suffering from accidents each year.
The Recuperation Centre is open to the public not only to show and explain the work it does but also to raise financial help for its maintenance. The cages are adequate for allowing visits without upsetting the animals which are there for treatment and will be set free once they have recovered.
The tour takes you to different areas; the terrarium where there are tortoises, the ponds for exotic tortoises, the ponds for recovering toads, and cages for a variety of birds that are symbolic of Minorca. These birds have suffered from severe injuries but which hare too bad for them to return to the wild, so they stay on at the Centre and help us with an important lesson in environmental understanding.
With the visit to the hospital is an optional visit to the Lithica Quarries. The entrance is in Camí Vell, 1km away from Ciutadella.
Your visit helps our work and we look forward to seeing you.